Engaged Yoga
300 hrs YTT
Led by two strong and experienced teachers, Christopher Gladwell, a leading senior yoga teacher trainer from the UK with over 35 years of experience, and Emma Michael a leading teacher based in Cyprus with over 20 years experience. Our aim is for this training to be the highest standard of its kind. The course has been designed to give teachers a strong foundation in the full spectrum of yoga and to provide teachers with both the technical and communication skills required to give their students a truly outstanding experience each and every time they attend class.
Expect a strong, thorough and creative training where you will gain a wide and solid foundation of traditional yoga. The training will provide an integrated spiritual approach to optimal body function. It will honour the traditional lineage of yoga whilst taking advantage of the many modern scientifically based advancements of meditation, asana, anatomy and physiology. The training will facilitate the necessary personal development as well as equip you with the practical tools and knowledge required for life as a certified yoga teacher.
curriculum
300 contact hours and an ongoing mentoring programme
Strong daily asana practice
Strong focus on Meditation, Pranayama, Kriyas and Nagas
Daily Mantra, anatomy, and key yoga concepts
Yoga Nidra and strategies for relaxation
Hands on practical teaching experience with individual guidance
Yoga Philosophy and History of Yoga - study of Patanjali's Yoga Sutras, The Bhagavad Gita & Tantra
Working with chakras, koshas, kundalini, nadis & granthis
Personal development, yoga as a tool for transformation
In depth Yoga Anatomy & Physiology
Key yoga asanas, alignment & modifications
Pregnancy & the postnatal perod
Intelligent class sequencing & effective class communication skills
Reading the body and making confident yet sensitive adjustments
How to run your yoga business - marketing and practical business tools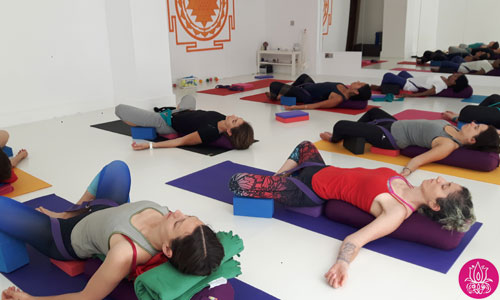 mentoring programme
As part of our commitment to produce the finest teachers Cyprus has to offer we feel it is important that our students have access to a supportive mentoring programme. Students will be given a private session with the teachers and have the opportunity to teach classes at The Centre and receive feedback on these classes. Students will also have discounted access to classes at The Centre during the teacher training.
dates
Friday 7th - Saturday 14th of June
(7 night/8 Day retreat)
Friday (evening) 18th - Sunday 20th of July
Saturday 31st August - Sunday - 1st September
Friday (evening) 27th - Sunday 29th of September
Friday (evening) 1st - Sunday 3rd November
Friday (evening) 29th - Sunday 1st December
Saturday 25th - Sunday 26th January
Friday (evening) 21st - Sunday 23rd February
Friday (evening) 27th - Sunday 29th March
Friday (evening) 1st - Sunday 3rd May
Friday 29th - Sunday 31st May 
tuition fees
€2,200 + Retreat Costs
ATTC students will receive a 15% discount of the final retreat costs
€500 non-refundable deposit payable upon acceptance on to the course, Balance payable in full, upon acceptance on to the course.
---
'Yoga is the journey of the self, through the self, to the self'
-Bhagavad Gita